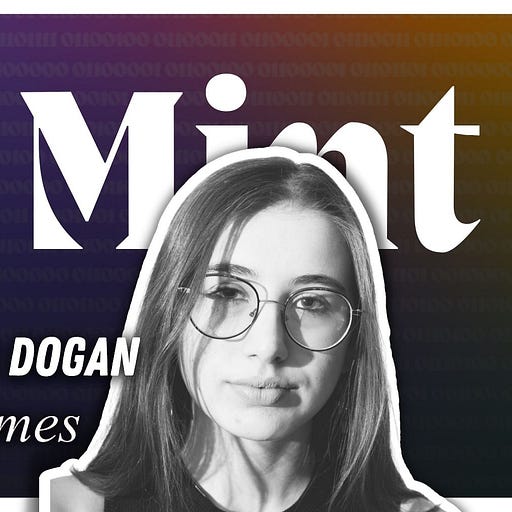 May 15 • 32M
☕️ Mint TLDR - Sunday Recap #36
Web3 Ethics bonus episode + Juicy NFT, Social Token, and DAO news for the week of 05/09 🎉
gm Mint nation - happy Sunday! If you're new here, welcome. 🤗
Every Sunday, we issue 'Mint TLDR,' where we focus on our favorite weekly stories around NFTs, social tokens, and DAOs.
We've curated the juiciest headlines of the week in an easily digestible format for you to enjoy with your Sunday coffee.
If you haven't already, join Mint's Discord + claim your free Season 5 Listener Badge NFT that I distribute at the end of the season! There may or may not be rewards in the future. 😉
👇 Let's dive in!👇
---
🎙 Sunday Bonus Episode ft. Me!
I sat with Adam a couple of weeks back to share my perspective on ethics in web3. We were waiting for the right time to release it, so considering everything that happened this week (keep reading to get a recap 😉) we hope you enjoy our conversation.
---
💎 NFTs
---
🚀 Social Tokens
---
🌐 DAOs
---
📱 Web3 Social presented by CyberConnect
---
🐦 Twitter Threads Worth Reading
---
👹 Savage of the Week
CEO of crypto exchange FTX, Sam Bankman-Fried, bought a 7.6% stake in stock and crypto trading app Robinhood, increasing the value of the Robinhood stock by ~25%. Bankman-Fried said the purchase is solely because he thinks its a good investment, and he has no intention of changing the direction of the company.
---
🎙 Podcast Recap
---
🪞 Join Mint
Subscribe: Newsletter | iTunes | Spotify | YouTube | RSS Feed
Follow: Twitter | Instagram | Discord
---
🤝 Support Season 5 NFT Sponsors
1. CYBERCONNECT | CyberConnect is a decentralized social graph protocol for user-centric Web3, currently with over 150,000 users and 3 million connections.
Built with IPFS and Ceramic, it creates a data standard, data storage infrastructure, and recommendation indexing system for social connections, providing a universal data layer for the next generation of dApps - GameFi, NFTs, DAOs - to plug in meaningful and contextual social functions.
The protocol allows users to preserve their connections with anyone and anything on any dApp. | cyberconnect.me
2. COINVISE | Create your social token and mint NFTs. | coinvise.co
---
That's a wrap. If you'd like to continue the conversation, follow me on Twitter here. 💃
Enjoy your Sunday and we'll see you next week :)
P.S. if you want to submit stories to be included in next week's edition, you can do so here 👉 https://forms.gle/oQGRLNbQ6M2WWU826
Disclaimer: Investing in NFTs comes with inherent risk including technical risk, human error, platform failure and more. This newsletter is strictly educational and nothing we offer is financial advice. We are not professionals or licensed advisors. Views my own and not any other company I'm affiliated with.